Welcome to the June Product Spotlight. If you came here from
Debra Van Patten's blog
You're on the right track. This is a circle hop, so if you continue, you will end up back there.
June's blog hop features the product, Just Blooms. They come in several colors.I used flowers from 2 different packs. The Spring Blossom (Z1266) features Creme Brule, Colonial White, and Tulip. There are flowers in 3 shapes and 2 sizes and butterflies. Big Pinks (Z1033) come in Baby Pink and White Daisy in 5 sizes.
My layout is from my granddaughter and grandson's first communion. On the left page, I used the Big Pinks. On the right page, I used the Spring Blossom flowers and one butterfly.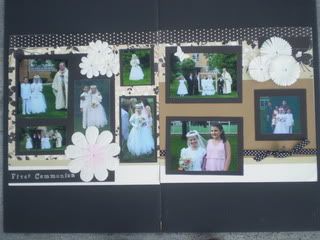 Now hop on over to
Amy Edwards
and see what she has created for you to see.
If you would like to come back to see the other posts on my blog when you finish, click on the title:
carol-scrappininparadise.blogspot.com