Welcome to the December Stamp of the Month Blog Hop. If you arrived here from
Debra Van Patten's blog
, you're in the hop. Keep hopping and you will eventually get back there.
December's Stamp of the Month "Amore" is a lovely stamp set with lacy hearts and sweet phrases. It immediately makes me think of Valentine's Day, so that is what I made for this hop.
I made a very simple card for my hubby (don't tell him). I cut the card out using the edge of a spellbinders label die on one side only. To do this, I had to slide the card into the die so only one edge was under the cut edge.
I stamped the large heart in Sky ink and then used Pacifica in the Rock and Roll technique. To do that, you roll the darker color ink onto the edges of the stamp. Since the stamp is clear, you can line it up with the original image and stamp right over it. I also stamped the word Love in Pacifica ink.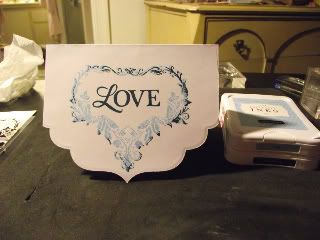 For the inside of the card, I stamped the sentiment in Sky and then overstamped the same image using the rock and roll technique in Pacifica. The adorable heart border was stamped in Pacifica ink.
Now, hop on over to
Sarita Schraeder's blog
and see what she has created for you.