As my nestabilities dies sets increased in number, finding a good storage system became a concern. I had them in CD cases, small carrying cases I found, among other storage types. Finding the dies I wanted became a major chore. Now I have come up with a storage system that not only works, it is relatively easy to transport to crops.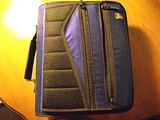 (Click thumbnail to see larger size.)
I got this loose-leaf binder from my local Costco. I like it because it has a zipper around the outside so any dies that come loose won't fall out. This particular style also has a handle on the outside making it like carrying a briefcase.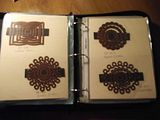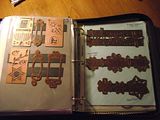 I put clear page protectors in it and put self-adhesive magnetic tape (purchased in a roll at Wal-Mart) onto 8 1/2 by 11" cardstock and placed the magnetic dies on pages. I also wrote the Spellbinders Item Numbers on the cardstock mostly so I would have a record of my dies and not keep buying duplicates. I also put the Item Numbers into an Excel spreadsheet that I can take shopping with me.