I began this layout back in April, but my surgery forced me to put off finishing it. Now that I'm better, I had to get back and finish it.
I decided to create a layout that can accommodate a year's worth of pictures. The art teacher at my school adopted a baby and he is taking pictures of her each month with a stuffed monkey, making the monkey appear to "shrink".
I created the layout using CTMH Sophia Workshop on the Go and the coordinating My Stickease.
I cut out the name Sarah using a different cricut font back in April, but now that CTMH has the Art Philosopy cartridge, I cut the word shrinking using the font layer and made each letter a tenth or two smaller. The large black mat for the name was also cut using Art Philosopy. The words are stamped using the Field Trip Alphabet.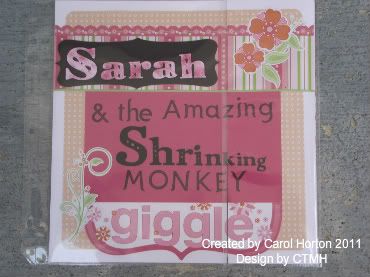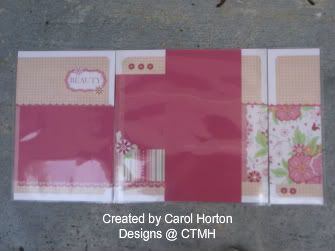 Materials Used
X7131B Sophia Level 2 Paper or G1019 WOTG Kit
X7131C Sophia My Stickease
A1686 Cricut Art Philosophy Bundle
1386 Black Cardstock
1385 White Daisy Cardstock
X5909 Hollyhock Cardstock from the Light Red and Pink Shade Pack
Z2128 Hollyhock Ink to sponge on name
Z2105 Black Ink to sponge over letters cut from black cardstock and stamp remaining words
E1013 Field Trip Alphabet Stamps (Upper and Lower Case in one set)
Please comment so I know you've been here. All constructive feedback appreciated.