Welcome to the Stamp of the Month blog hop for February. This lovely stamp set is called Piece of Cake and you can get it at a discount or even earn it for Free! It is only available Feb. 1-28.
If you came here from
Laura Petruso's blog
, you're on the right track.
I have a beautiful circle card for you to see. It was designed by my good friend, Sunny Sheppard. She adores Close to My Heart products and was very excited to create a card to be displayed on my blog.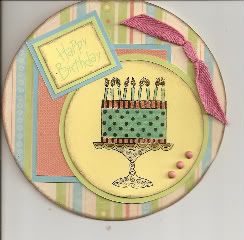 This cute paper is Caboodle, which can be found in the CTMH Spring 2010 Idea Book. The product colors are buttercup, sweet leaf, crystal blue, sorbet, chocolate, and black. The fold is at the top of the card. The image was stamped onto a buttercup circle in archival black and colored in with CTMH markers. A little Martha Stewart glitter was added to the candle flames and cake plate. This was layered onto a slightly larger circle in sweet leaf. This was layered onto a square of sorbet B&T paper on a crystal blue cardstock square. The Happy Birthday was stamped in crystal blue onto buttercup cardstock with edges inked in chocolate, layered onto sweet leaf, then layered onto crystal blue cardstock. The card itself is colonial white with the caboodle striped paper covering the entire card and edged in chocolate. Sorbet brads and sorbet ribbon adorn the card. Isn't this card beautiful?
Now head on over to
Georgia Hauglid's blog
to see what beautiful artwork she has for you.