I spent my entire Spring Break sick in bed with an upper respiratory infection, so I didn't get much accomplished. By the weekend, I was feeling much better and decided to make the projects in the Lucy Workshop on the Go Kit from Close to My Heart. I love this paper pack. So far, I made 2 - 2 page layouts as suggested in the kit and the My Creations Mini Banner. I also made 2 cards from the scraps. I still have 3 unused sections from the banner, 1 full sheet of Background paper and 1 full sheet of cardstock. The only things I added to this project was a few extra sheets of Colonial White cardstock and some of the accessories.
Here is the Lucy WOTG Layout I made: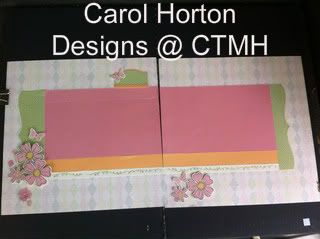 This is the 2nd Suggested layout from the WOTG:
Here are some cards and the Banner I made.
Complete Product List
G1034 Lucy WOTG
9034 Magic How to Book (for 2nd layout)
z2106 Blush Exclusive Ink Stamp Pad
z2125 Gray Wool Exclusive Ink Stamp Pad
z2167 Creme Brulee Exclusive Ink Stamp Pad
z2153 Sweet Leaf Exclusive Ink Stamp Pad
z1736 My Creations Mini Banner
z1690 Blush Bitty Buds Assortment (Suggested by CTMH but not used)
z1694 Bouquet Assortment (used Creme Brulee pieces only)
z1710 Paradise Paper Flowers
x5901 Colonial White Cardstock 6 sheet pack (used 2 sheets)
B1402 My Peeps Stamp Set
Z1725 Adhesive Springs
I also used one of my retired stamp sets for the Happy Birthday sentiment and my MS edger punch to make edging on the tall card.
For more detailed photos or to ask any questions, please email me.